NUCLEAR FUEL FROM SEA WATER
Attention! Next time when you go to the beach, look at the horizon and think about this:
You are swimming in nuclear fuel!
According to a recent scientific research, our oceans contain an estimated 4.5 billion metric tons of Uranium. This Uranium is diluted down to a minuscule 3.3 parts per billion.
This amount of nuclear fuel is enough to supply energy for thousands of years. During the past 2-3 decades extracting Uranium from seawater has been quite in news. However, the materials and processes to do this has become economically viable only now.
HOW URANIUM EXTRACTION WORKS
A polymer substrate—basically, plastic—is irradiated, and then chemicals with an affinity for Uranium are grafted onto it. The material is woven into 60-meter-long braids, and these are then brought out by boat to waters that are at least 100 meters deep.
The braids are chained to the ocean floor and allowed to float passively in the water, like an artificial kelp forest. After about 60 days, the boat returns and pulls in the adsorbent materials—now sporting a healthy yellow tint from the Uranium.
The plastic is then brought back to shore, and the Uranium is eluted off.
"You get between 2 and 4 grams of Uranium sticking to this stuff per kilogram of plastic," says Erich Schneider, a nuclear engineer at the University of Texas at Austin. "That doesn't sound like a lot, but it all adds up."
URANIUM IS PRECIOUS!

Extracting Uranium out of seawater is certainly a cost-effective way to source nuclear fuel. Now that the extraction technique is in place, this could pave the way for coastal countries to switch to nuclear power.
A team of researchers from Stanford University in California reported in Nature and demonstrated that they have found a way to more efficiently extract the Uranium dissolved in our oceans.
Uranium is in the form of the isotope U-235. It is currently the radioactive element of choice when it comes to using nuclear energy to produce electricity. Across 30 countries about 450 nuclear power plants are spread and can chew through more than 60,000 tons of the stuff each year.
"Concentrations are tiny, on the order of a single grain of salt dissolved in a litre of water," said team researcher Yi Cui from Stanford University. "But the oceans are so vast that if we can extract these trace amounts cost effectively, the supply would be endless."
4.5 billion tons of Uranium dissolved in our planet's waters would supply us "endless" amount of energy, with any we remove being replenished as Uranium in the surrounding rocks dissolves.
Indeed, in our oceans there a lot of water to sift through – about 1.37 billion cubic kilometers, in fact, (that's more than 332 million cubic miles), with only about 3 particles of uranium per billion particles of seawater.
"We have a lot of work to do still but these are big steps toward practicality." Cui said.
IMPROVED EXTRACTION
Scientists would need to dip plastic fibers into the seawater coated in a chemical called amidoxime. The uranyl ions then stick to the plastic fibers allowing for extraction and then eventually refinement.
What the Stanford team have done is taken this method and improved it threefold.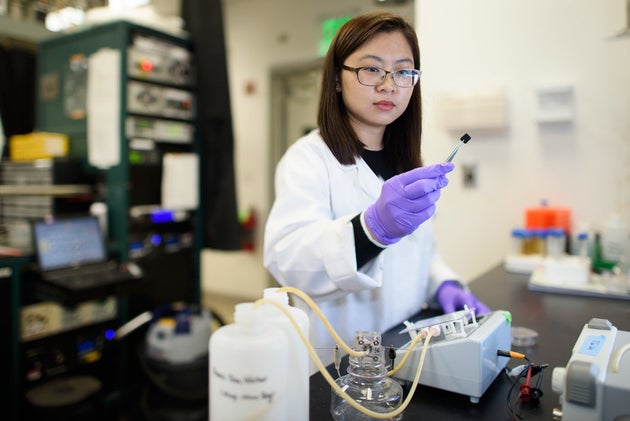 This approach depends on three main variables: how much uranyl sticks to the fibers; how quickly ions can be captured; and how many times the fibers can be reused.
At Stanford, researchers improved on all three variables: capacity, rate, and reuse.
KEY ADVANCES
The team developed a conductive hybrid fiber incorporating carbon and amidoxime.
By creating a carbon and amidoxime fiber prototype they were able to pass electricity through the fibers with the resulting effect being a 3x increase in the amount of uranium collected and a 3x increase in the lifespan of the fibers.
By sending pulses of electricity down the fiber, they altered the properties of the hybrid fiber so that more uranyl ions could be collected.
NUCLEAR VIABILITY FOR FASTER AND BETTER SUPPLY
This report emphasizes how feasible uranium collecting can be. But much research still needs to be conducted in order for these methods to be simplified for extraction. Looking at the numbers it is currently much easier to gather Uranium from the ground compared to the ocean.
Professor Steven Chu, a Nobel Prize-winning physicist and co-author of the Nature Energy article believes that as long as research on extraction is carried out in parallel with work on reactor safety and waste disposal challenges, this could offer new countries a homegrown opportunity for nuclear fuel.
Chu emphasized, "We need nuclear power as a bridge toward a post-fossil-fuel future. Seawater extraction gives countries that don't have land-based uranium the security that comes from knowing they'll have the raw material to meet their energy needs."
"For much of this century, some fraction of our electricity will need to come from sources that we can turn on and off. I believe nuclear power should be part of that mix, and assuring access to Uranium is part of the solution to carbon-free energy," Chu added.
The paper was published in the journal, Nature Energy.